Daily Getaways is an annual online sales event hosted by the U.S. Travel Association. Various travel packages (mostly hotel related) are available for purchase across a couple of weeks, usually with a very heavy discount.

Although it targets the U.S. market, some of the deals, specifically hotel point packages, are very worthy even if you reside elsewhere. Note that when you purchase you must fill in a U.S. billing address, so you need a payment card issued in the U.S., or that doesn't verify billing address.
There are a few deals to be had next week.
July 26th – Choice Privilege
14,000 points = $84, qty: 1,147
28,000 points = $155, qty: 1,561
42,000 points = $220, qty: 1,300
55,000 points = $285, qty: 1,590
This is way cheaper than how much Choice usually sells their points, and given there are more than 5,000 packages on sale you should be able to grab some easily.
Choice has their main footprint in the Americas, and thus isn't a popular or well-known program in Europe. However they do have some low- or mid-range properties in Europe, and with their strong ties with Nordic Choice you can redeem points on luxury hotels in Northern Europe too.
The great news is, most of the Choice hotels in Europe costs between 12,000 points and 20,000 points per night, which means under this deal you pay no more than $104. There are quite a few options in London and Paris for example, although they are only two-stars and three-stars.
The same pricing apply to those five-star hotels in Nordic Choice though, including The Thief in Oslo that typically costs €400 per night: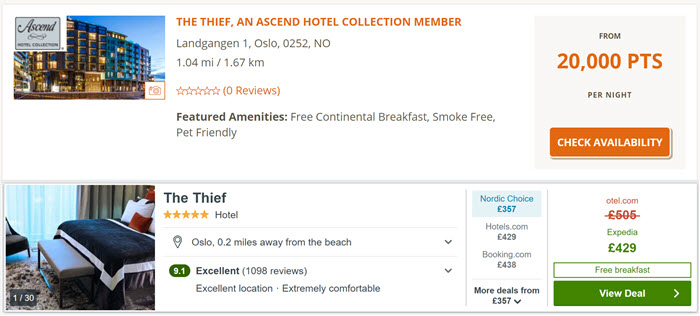 Unfortunately availability is scarce, but there are many other hotels with wide-open availability that are around the €200 mark.
Choice points don't expire as long as there's account activity in any 18-month rolling period.
July 27th – Marriott Bonvoy
$100, qty: 1070
$250, qty: 252
$500, qty: 200
You can buy these e-giftcards at 20% discount. They can be used at most Marriott-branded hotels upon check-out to settle any charge, and they never expire.
It is effectively 20% off on top of whatever other discounted rate you are using. As it's only a payment method, you earn all points and credits as usual.
July 29th – World of Hyatt
30,000 points = $396, qty:2
50,000 points = $660, qty:6
80,000 points = $960, qty:8
The price has gone up significantly this year, whereas the availability dropped to a ridiculous level. Although the packages are still a lot cheaper than when Hyatt sells points, it would be extremely hard (or lucky) to get any of them.