You probably have heard of Mr & Mrs Smith – Similar to Small Luxury Hotels they are a loose hotel alliance, or rather marketing platform for boutique hotels, with exceptionally strong presence in the UK and also good footprint in many other countries.

They have recently tied up with IHG, and many Mr & Mrs Smith hotels are now already bookable via IHG either with cash or points. If you hold a Vitality health insurance policy, you may qualify for up to 25% discount when booking their hotels.
Apart from their partnership with IHG, Mr & Mrs Smith actually has their own membership program:
BlackSmith Free to join, 1% cashback on bookings and Smith Extras

SilverSmith

£100 annual fee, 2% cashback on bookings, Smith Extras and Priority Pass membership

GoldSmith

£400 annual fee, 3% cashback on bookings, Smith Extras, Priority Pass & Onda membership, room upgrade subject to availability and travel concierge service
Smith Extras is a complimentary add-on to your stay, which may be a welcome fruit platter, free breakfast, room upgrade or free set meals. SilverSmith and GoldSmith members may qualify for better Smith Extras at certain properties.
The Priority Pass membership offered doesn't come with any free visits, which means you have to pay for each entry to airport lounges (£20 in the UK).
I'm not sure how the travel concierge or room upgrade works out in reality, but at the first look the GoldSmith benefits are quite underwhelming to me considering the whopping £400 annual fee.
But wait, didn't I say free? Mr & Mrs Smith is running a promotion with American Express, where Centurion / Platinum cardmembers enjoy a free upgrade to GoldSmith and the remaining to SilverSmith. You can access the offer page here and enter the first 6 digits of your Amex card to see if you are eligible.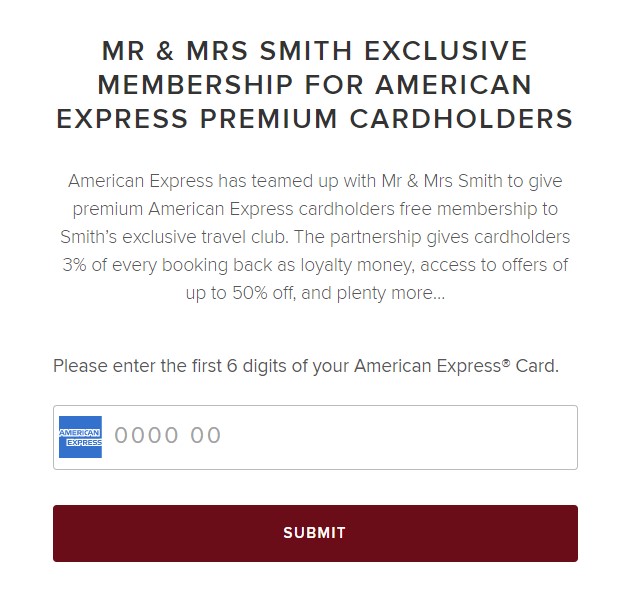 The thing is, it's unclear what markets the offer is targeted at. The terms say that UK-issued cards are not eligible for the promotion and indeed my cards don't work. However many of my friends tried their US- or China-issued cards and also no avail.
And after many trials and errors, I've found a BIN code – 371595 – which is eligible for the GoldSmith upgrade. You should be able to fill out your personal information on the next page to apply for your membership.
It may take a few minutes for the welcome email to arrive, and if not you could also try resetting your password which should also activate your account.

And here are the Smith Extras you can expect at certain UK hotels:
London, Ham Yard Hotel – A cocktail each at the bar
London, 11 Cadogan Gardens – Full English breakfast for the two
London, The Franklin – £50 hotel credit
London, The Portobello Hotel – A free room upgrade and bottle of hand sanitiser (!)
Cornwall, St Mawes Hotel – A bottle of Prosecco and tickets to local attractions
Cotwolds, Lucknam Park Hotel & Spa – Traditional afternoon tea for two
Remember that you can also book some of the hotels via IHG or even Amex FHR / Virtuoso, and here are some pros and cons:
Amex FHR / Virtuoso Very limited selection of hotels; Priced at Best Flexible Rate so relatively expensive; Very good benefits (free breakfast / room upgrade / £100 hotel credit etc)
IHG Good selection of hotels; Priced at Best Flexible Rate so relatively expensive; Smith Extras benefits; Earn & redeem IHG points
Mr & Mrs Smith Direct Booking All hotels; Many (cheaper) rates available; Potentially better Smith Extras benefits thanks to GoldSmith
The membership is valid for 12 months. If you think you may set foot in one of the hotels in the near future, why not grab a free tier upgrade now?