The BA award ticket sale last October had up to 50% off on a lot of long-haul routes, and many of us took a punt at it. Unsurprisingly many of these flights have been cancelled (or will be), and it's important to know what your rights are under such circumstances.
[Refund]
If you don't mind losing the very good deal, you can of course just cancel the trip and ask for a refund.
Note that there's still no refund option online and you must call. From my personal experience though, the refund comes through very quickly.
[Future Travel Voucher]
When your flight is cancelled, besides accepting a refund they'll also push you to accept a Future Travel Voucher, or FTV.
Although it may make sense to accept one on few occasions, don't do it if it's a ticket from last year's sale. An FTV is basically a voucher that carries all values of your previous ticket, which may include Avios, taxes and surcharges, seat selection fee etc.
It will act as part-payment towards your future booking. It means, if you accept a FTV and go on making a new booking, you'll end up paying the current (full) price.
[Rebooking Online]
This is the best and most convenient option. Simply login to BA's website and then rebook by selecting a new date: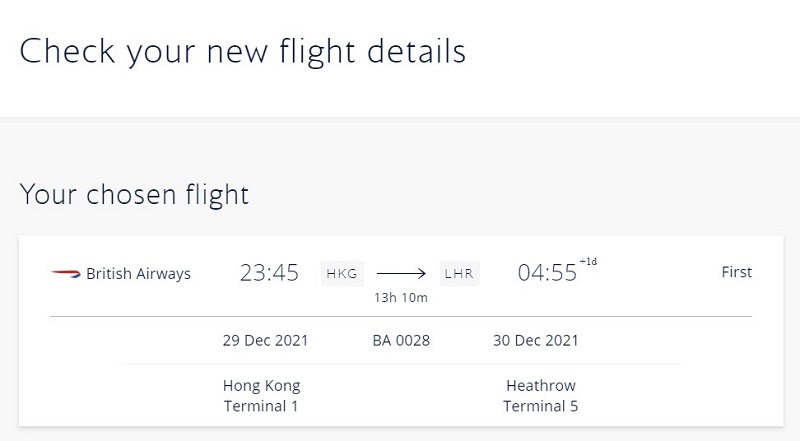 You cannot change the origin or destination of your trip, however you won't need to pay any fare difference either. You should be able to choose any flight on sale, as long as there are (reward) seats available.
[Rebooking over Phone]
It appears that online rebooking only works for direct flights though. If your flight has stop(s), or the trick above doesn't work for you whatsoever, you must call BA's customer service to rebook.
The biggest limitation here is, your trip must start by the original booking date + 365 days. As last year's sale was in October, your trip will have to take place in October 2021 at the latest. It seems to be a restriction that cannot be bypassed if you rebook via the customer service.
My JER-LHR-HKG flight next week has been cancelled, and I called this morning to change my flight. As the current situation stands, I'm hoping to rebook to as far in the future as possible, which is mid October.
However, the agent from You First told me that BA will only fly to LGW from Jersey in October, which obviously is very inconvenient for my connecting flight to Hong Kong. I inquired about dropping the first leg so that I could start my trip in LHR instead, and was quoted £148 fare difference due to taxes.
I didn't just give up and asked for a word with the supervisor. Another 15 minutes and the same agent came back telling me that their manager has agreed to move my flight and waive the charge, result! Unfortunately the trip still needs to take place by mid October or I'll have to pay full Avios.
Hope my tips help.