As Asia is recovering from the pandemic, we have already seen a lot of incredible hotel promotions in China and Southeast Asia. Hopefully Europe will slowly follow suit – and gladly we are already seeing one from Radisson Hotels.

Radisson has just launched a "Summer Staycation" promotion:
Valid for bookings until 29th August
Stay until 30th August
Hotels (Radisson Blu, Park Plaza, Park Inn etc.) in Europe, Middle East and Africa are participating
There's a minimum stay requirement of 2 nights
Stay includes free breakfast and €50 hotel credit (per stay)
Free cancellation until 48 hours before your stay
You can book on the offer page directly. Alternatively just visit the home page and enter code STAYCAT when you book.
Free breakfast is for two persons throughout the stay and €50 can be used towards e.g. dining, spa and room upgrade. The benefits look very decent, but of course it is subject to how much the package costs, compared to other regular rates.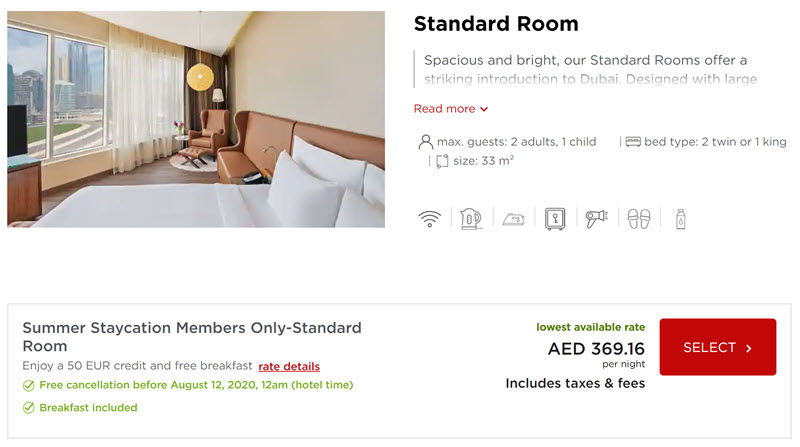 I have checked a few hotels and listed my findings below. The first one is this Staycation rate, the second being the lowest publicised rate available. They are both average nightly rate for a weekend stay.
London
Berlin
Stockholm
Dubai
I was expecting to see the rate on a par with the best flexible rate, but surprising it is genuinely the lowest rate available. In fact, it is about 5% lower than the lowest public rate, so you get a decent saving, as well as enjoy free breakfast and the €50 credit.
Of course there's still a lot of uncertainty out there and we don't know if we can travel this summer at all. But you can cancel the booking for free later, so there's no harm make some speculative reservation now.