IHG (InterContinenal Hotels Group) is a hotel chain that is headquartered in United Kingdom. It owns more than 5,000 hotels worldwide, spread across the majority of Europe, United States, and many Asian countries.

Its main brands are:
Luxury: Regent, Six Senses, InterContinental, Kimpton
Upscale: Hotel Indigo, Crowne Plaza, Hualuxe
Midscale: Holiday Inn, EVEN
Budget: Holiday Inn Express, Staybridge Suites
The best-known luxury brands of IHG is no doubt InterContinental. However it is a far cry from the league of Ritz Carlton, St Regis or Waldorf Astoria etc. No wonder IHG has been very keen in acquiring other luxury hotel groups lately.
[Membership Tiers and Benefits]
IHG's loyalty program is called "Rewards Club", with four membership tiers:
Club: entry level, free internet if booking direct

Gold

: 10 nights / 10,000 base points. Benefits include 10% bonus points and late check-out

Platinum

: 40 nights / 40,000 base points. Additional benefits include 50% bonus points in lieu and room upgrade

Spire

: 75 nights / 75,000 base points. Additional benefits include 100% bonus points in lieu and early check-in
Spire elites can choose between 25,000 bonus points or gifting someone a Platinum card upon reaching or retaining the status.
IHG's member benefits is probably the weakest amongst all mainstream hotel chains. Nothing is guaranteed for the top-tier Spire members, and there is no mention of free breakfast or club lounge access at all.
However, if you frequently visit Greater China (mainland China, Hong Kong, Macau and Taiwan), a region-specific chart applies to Spire elite: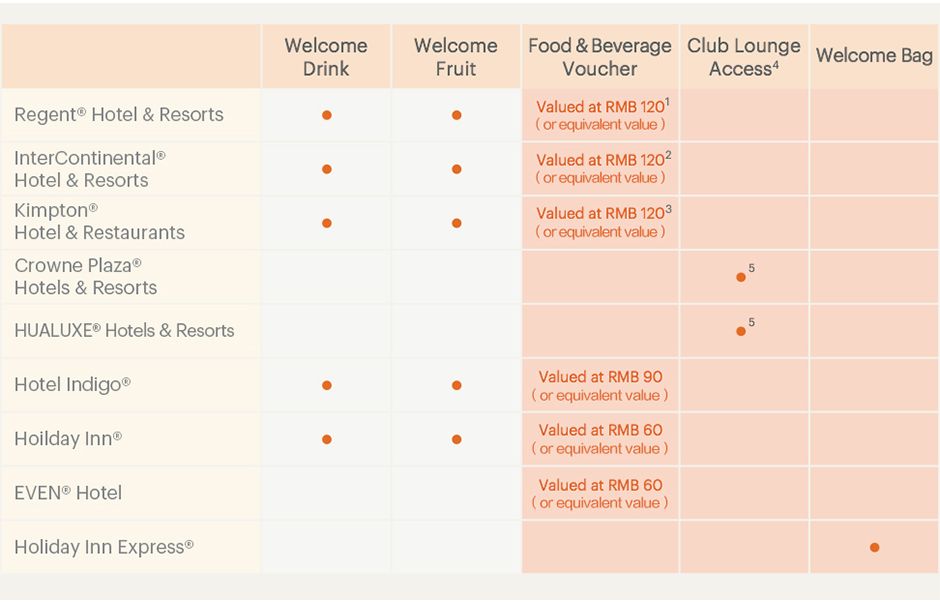 As you can see, Spire members can expect guaranteed club lounge access at Crowne Plaza and Hualuxe hotels and F&B voucher at other brands. This is a significant improvement on the global standard.
IHG runs another paid program called InterContinental Ambassador. You pay $200 to join, and then are guaranteed one-level room upgrade, 4pm check-out and $20 F&B voucher when staying at InterContinental hotels. Note that this is for one brand only, although may extend to (some) Regent and Kimpton hotels in the future.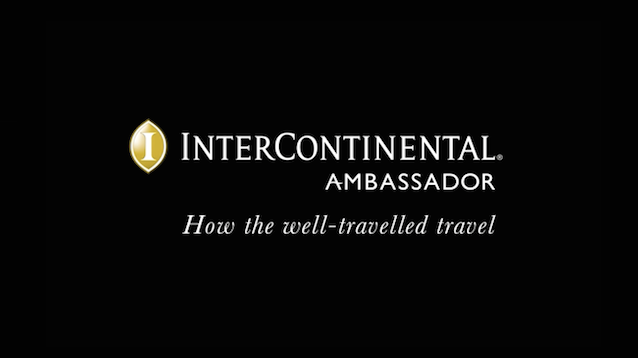 You pay for single occupancy only when two people are staying. This can be very useful in countries like Japan where double occupancy is much more expensive.
You also get one weekend night certificate. Book a two-night weekend stay with it and your second night is free.
Again, hotels in Greater China offers better treatment: complimentary breakfast for one person throughout your stay. This is in lieu of the $20 voucher.
If you are an ambassador, and spend enough money at InterContinental hotels, you may reach the secret, invite-only Royal Ambassador tier. Qualification criteria is not publicised, but the benefits are substantial: guaranteed two-level room upgrade, $50 minibar credit per day, 10am check-out and complimentary club lounge access.
[Earn Points]
You earn 10 points for every dollar you spend at IHG hotels. This includes what you originally pay for the room, and also food & drinks and other incidentals charged to the room. Note that the earning rate is discounted at certain budget brands.
Points never expire for elite members. Otherwise you need to make sure to earn and spend some points at least every twelve months.
You can buy points directly from IHG. The regular price is $10 for 1,000 points, although there are frequent bonus point promotions that halves the price.
[User Points]
A "free" night at IHG hotels costs from 10,000 points to 70,000 points, historically. Some high-end hotels added recently have exceeded the 70,000 points cap. For example, the InterContinental at Maldives costs 100,000 points a night.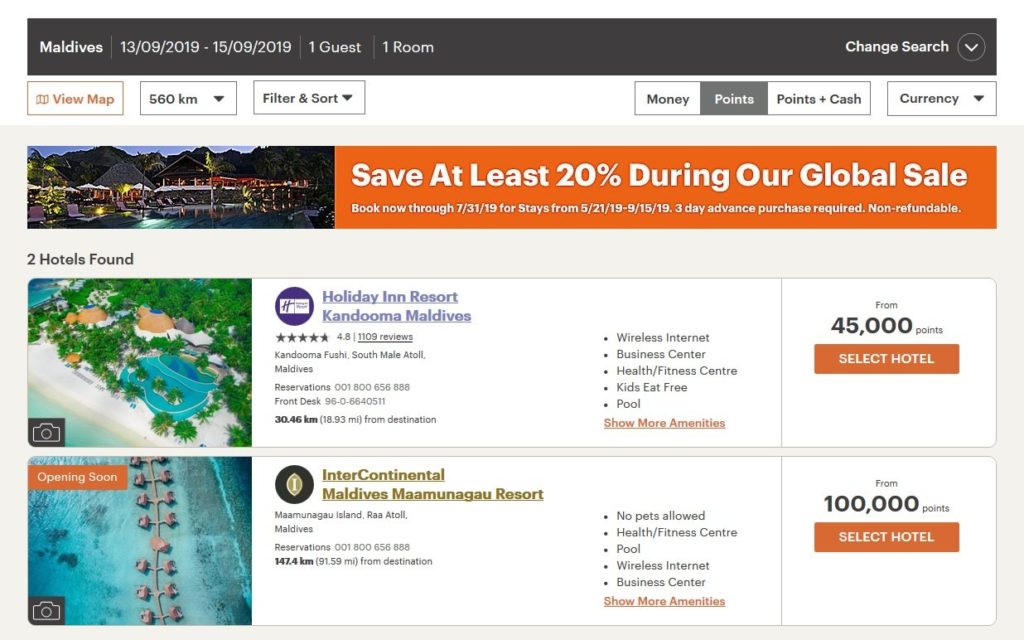 In 2020, IHG started rolling out dynamic award pricing in some countries / cities. It appears to be a very positive change so far.
InterContinental London Park Lane costs as low as 42,500 points a night, as opposed to 70,000 points previously:

A non-refundable rate on the same day costs £295 – remember that you can buy 1,000 IHG points for $5 during a promotion, and most point bookings are flexible.
Many Hotel Indigos and Crown Plazas can be had for fewer than 20,000 points across the UK. The same story happens in Paris, New York, Tokyo, Shanghai, and many others.
Remember that hotels are dynamically priced, so point requirement varies day by day. It has some correlation to the cash price but not totally, as the same hotel can be more expensive in points on the day when cash price is actually lower.
[Promotions]
IHG's promotions don't follow quite a pattern. It does run 25% – 35% off EMEA sales from time to time, and in other regions too.
For bonus points, there are two types of large-scale promotions that have been out in the last few years. First one is called Accelerate – basically you are given some targets such as stay X nights, stay Y brands and spend Z in F&B. When achieving any targets you are awarded bonus points.

The second one, which is more straightforward, is double, triple or quadruple points. The bonus is tiered, so that the more you stay with IHG, the more bonus points you earn.
[Summary]
If you are looking for free breakfast or other valuable benefits, IHG may not be the right choice for you. However, given that reward night redemption has become so cheap (at least for now) after dynamic pricing is in place, IHG may offer you a very good opportunity to stay at upscale hotels for a moderate cost.