IHG offers negotiated discount rates to many partners, and you may save quite some money if you dig around a little bit before making a booking. For example, we wrote about two partner rates previously:
A friend just introduced me to another IHG partner program with Wall Street Journal, which I'm gonna look into today.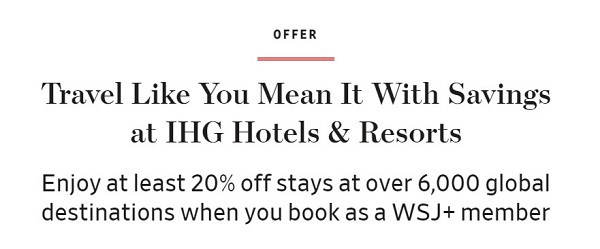 Basically if you are a Wall Street Journal subscriber, you are automatically enrolled into their WSJ+ rewards program, which comes with member-only access to exclusive offers and events.
One of the offers is a special IHG partner rate.
It appears to be a new benefit that started in April, and is valid until the end of 2023 (for now). Basically this special rate guarantees at least 20% off at participating IHG hotels globally, and:
You must book at least 5 days in advance
You can cancel free of charge 3 days prior to check-in
At least one night needs to fall in Thursday – Sunday
To check the price or book, go to IHG's website and enter corporate code 787056050. If the partner rate is available for a given hotel, you should see the Your Preferred Rate sticker as in the image below: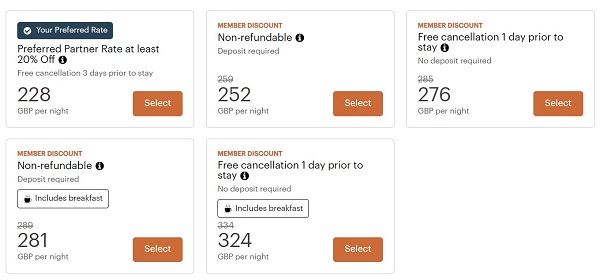 For an upcoming Friday, here are some London hotels with their partner rate and Advance rate:
Although not always the case, the WSJ+ partner rate is very often cheaper than the Advance rate, and the latter is non-refundable.
The WSJ+ partner rate can potentially save you a lot of money on IHG stays. Note that however you may be asked to present proof of WSJ membership upon check-in. It appears quite cheap though (at least for the first year / months), as I'm seeing a "£52 for 52 weeks" option on their website, which is a bargain considering the hotel savings.