November last year, Aegean Airlines had a nice sign-up promotion where you could earn 5,000 miles for simply registering, and quite a lot of people took part.
If you are one of them – or if you a Miles+Bonus member anyway – you may be in for another nice surprise of 1,000 miles. A friend of mine received the following email from Aegean earlier:
A gift is waiting for you in the new digital environment of your account!
Something changed in Miles+Bonus!
Log in now to your Miles+Bonus account via aegeanair.com or AEGEAN app, browse the new digital interface and discover a special gift we have for you!
Seeing "a special gift", I decided to try my luck as well although I received no communication whatsoever. And surprisingly, I saw this pretty banner when I logged into my Miles+Bonus account: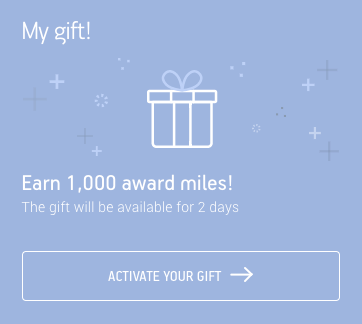 It appears that some people have received a variant of the offer, including 2,000 miles or 20% off a future booking to name a few.
Even if you don't fly Aegean or Star Alliance, remember that 2,000 miles can be converted to 500 Accor points, which is worth €10 for hotel stays.