Like many of its counterparts in Asia, Singapore Airlines has a very good reputation for its services in the air. I've flown Singapore Airlines twice on J, and was very impressed by how wide their old A380 business class seat was.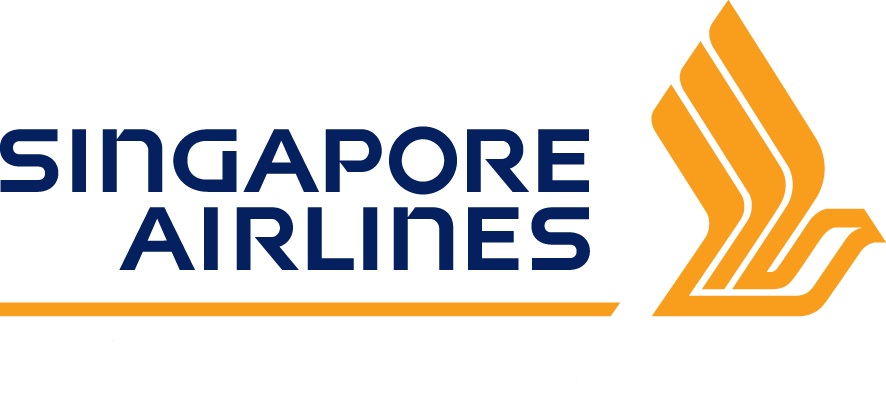 That was redeemed via Miles & More though. Today we will have a look at Singapore Airlines' own loyalty program – KrisFlyer, specifically how to use their miles.
Singapore Airlines is a Star Alliance partner, so that's a bunch of airlines you can spend your miles on already. You can also redeem you KrisFlyer miles on:
Juneyao Airlines (*A connecting partner)
Virgin Atlantic
Virgin Australia
Alaska Airlines
Vistara
Some of the *A flight tickets may be redeemed online, but not all. In other cases you'll need to fill out the reservation form or contact membership service.
KrisFlyer has one redemption chart for Singapore Airlines / Silk Air, one for all *A partners, and one for every other partner. Most, if not all sweet spots are in the *A chart.
[Stopover Policy]
KrisFlyer has a relatively generous stopover policy. For the (cheaper) Saver Award, you are allowed one free stopover (>= 24h) when booking a return, whether it's on SQ or *A metal.
The free stopover doesn't apply to such itineraries:
Purely domestic
Purely European
Within the country of departure in an international itinerary.
Between the United States, Canada, Puerto Rico or U.S. Virgin Islands
You can also pay for additional stopovers, if it is a return award, or one-way award on SQ metal.
| | | | | |
| --- | --- | --- | --- | --- |
| | SQ one-way | SQ return | *A one-way | *A return |
| Complimentary | ✘ | 1 | ✘ | 1 |
| Additional (payable) | ✔ | ✔ | ✘ | ✔ |
Additional stopovers cost $100 each. The most common use of this benefit is to have a stopover in Singapore, but remember that Singapore Airlines has a few fifth-freedom routes:
Singapore – Hong Kong – San Francisco (88,000 in J per way)
Singapore – Frankfurt – New York (92,000 in J per way)
Singapore – Manchester – Houston (92,000 in J per way)
These prices aren't cheap, but adding a stopover converts your itinerary into two trips so it becomes a better deal. However, the actual charge is usually higher than $100, since having a stopover means you'll need to pay more taxes and fees.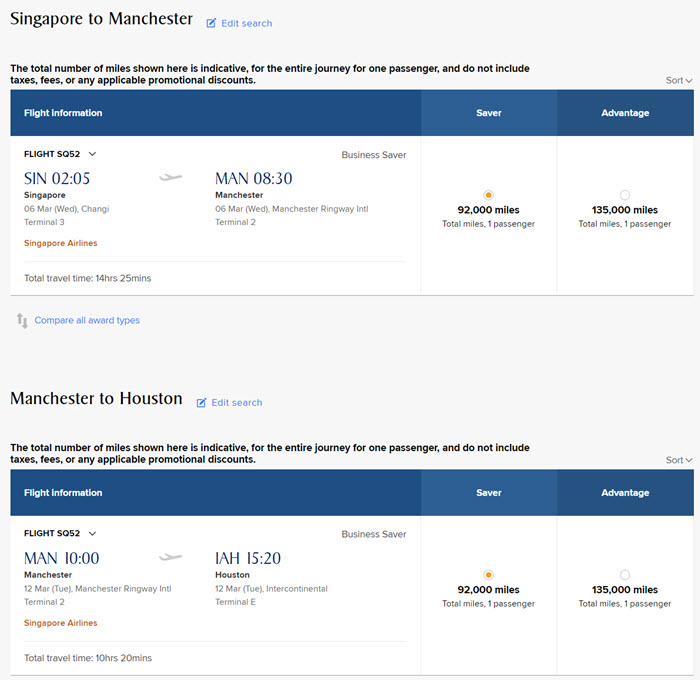 You can find fifth-freedom award tickets online, but to add additional stopovers you must call the membership service. Be explicit that you want to book a one-way with a stopover, instead of two trips.
[Europe – Middle East]
This is probably the best-value redemption in the KrisFlyer realm – a one-way business class costs 29,000 miles only.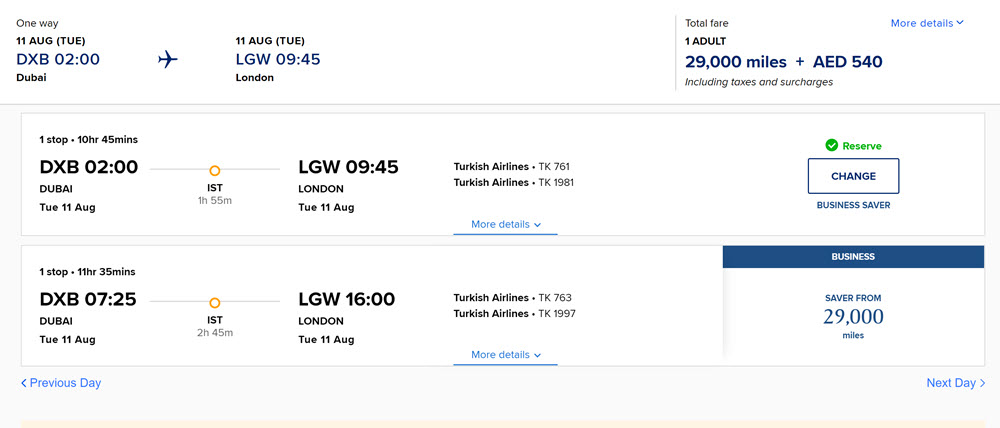 The Lufthansa group, Turkish Airlines and Egypt Air fly this route. Unfortunately they all tend to impose hefty surcharges, which means a return trip can cost 300~500 euro depending on the airline.
[Europe – Central & South Africa]
At 52,000 miles per way, this route is also worth considering especially for South Africa.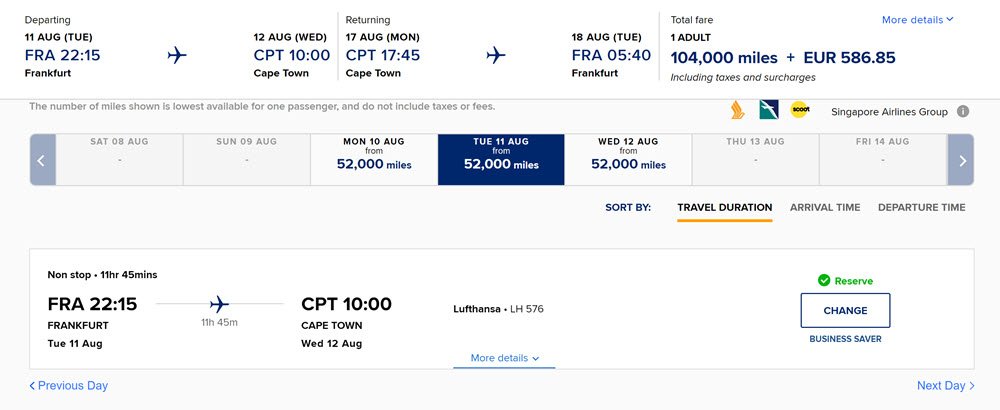 The money-saving option here is Ethiopian Airlines. You need to transfer at Addis Ababa but the surcharge ex-Africa is only around £50. Annoyingly I didn't manage to find any availability at this time.
[Intra South America]
A single intra-South-America award costs 12,500 miles in economy and 23,000 miles in business.
It appears that you can't search Avianca availability online.
[Intra North Asia]
A single intra-North-Asia award costs 12,500 miles in economy and 26,000 miles in business.
The definition of North Asia here is quite interesting – Mainland China, Hong Kong, Macau, Taiwan, Japan, South Korea, Russian Far East, Guam, Palau and Micronesia.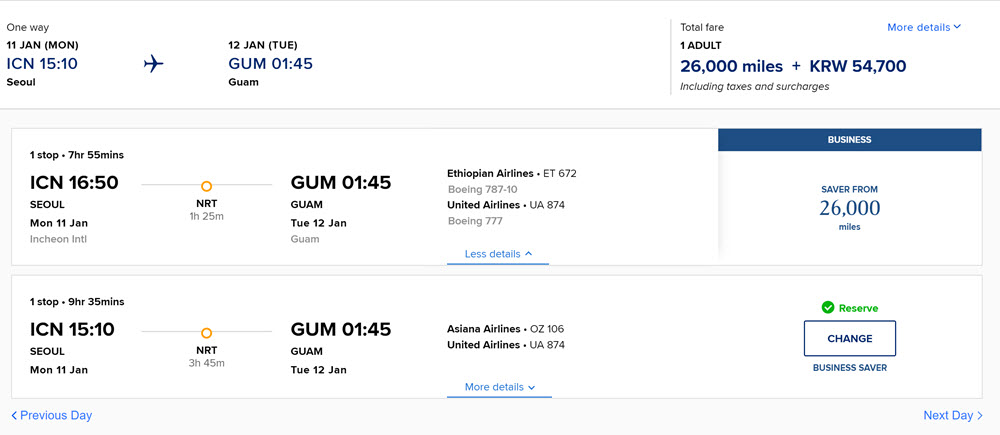 A business class flight from Seoul to Guam via Tokyo – over 2,300 miles – costs 26,000 miles only. You can try out Ethiopian or Asiana, as well as United. Also the surcharge is fairly low.
In theory you can even book the classic United Island Hopper taking advantage of this.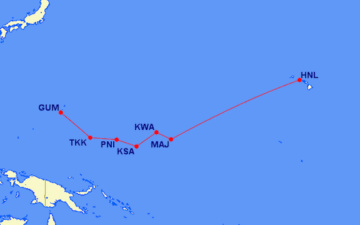 Starting from Guam, you can continue your trip to Chuuk (TKK), Pohnpei (PNI) and Kosrae (KSA). That's only halfway through the hopper though, but KSA is the last stop within the Federated States of Micronesia.

So you can travel from China, Japan or South Korea to Micronesia for only 12,500 miles one way. I could find award availability on United's website, but not on KrisFlyer. A phone call to their membership service should sort it out though, presumably.