If you frequently stay at hotels, and don't know what best rate guarantee means – you really should. Many hotel chains / hotel-booking platforms have this scheme, meaning that if you find a better price elsewhere, they will match that, and potentially offer additional discount too.

Today we'll focus on Hilton's Price Match Guarantee programme. You can find its details here. Basically, if you find a better price offered elsewhere after you've booked with Hilton directly, you can submit a claim within 24 hours for price match. Once approved, Hilton doesn't just match the price, but will also honour an additional 25% off.
There are a few things to keep in mind:
1. The other channel must be offering a publicly available rate – so it cannot be a member-only website, and the rate must be bookable by anyone, without the use of a coupon code etc.
2. This rate must still be visible by the time your claim is being reviewed.
3. The two rates must have identical conditions:
Same room type: one-bed v.s. two-bed is not ok
Same number of guests
Same amenity: with / without breakfast
Same cancellation condition: free cancellation or not
4. Hampton Hotels in China are excluded
Once submitted (form here), Hilton's customer service will validate your claim and usually get back to you within 24 hours.
To find the lower third-party rate, I usually use Trivago. It is a meta search engine that checks prices from a lot of platforms in one go: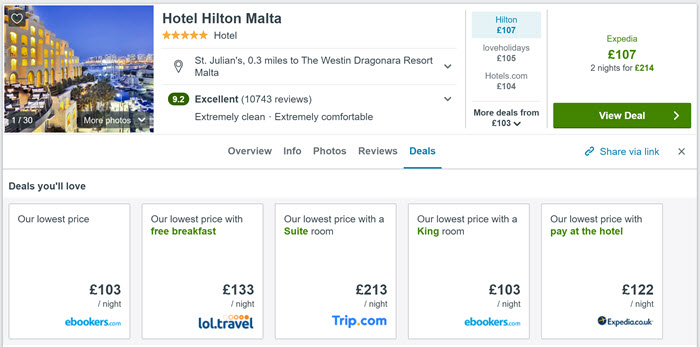 Genuine saving can be made via Hilton's Price Match Guarantee. However there is a catch – if you've booked a non-refundable pre-paid rate, and your claim is rejected, that will leave a bad taste in your mouth…
Don't panic yet – Hilton gives you the option to submit the claim BEFORE making a reservation. All you need to do is call the local reservation office and make your claim over the phone.
The agent will validate your claim on the spot and if it's approved, he or she will also book the hotel for you at the discounted rate immediately. I have done it once and it went smoothly: Hilton's CS agents seem to be well trained to take care of this request, however it may take them some time to calculate the rate, especially if the two prices are in different currencies.
If it is a flexible rate, you will just pay the new price at the hotel. If it is a pre-paid rate and you have already been charged, the hotel will typically refund during your stay. You enjoy full Hilton Honors benefits, and earn points / night credits for your price-matched stays.