Cathay Pacific (member of Oneworld) has two separate loyalty schemes – Marco Polo Club is a paid scheme where you can earn status and benefits when flying, and Asia Miles is the free scheme for miles earning and burning only.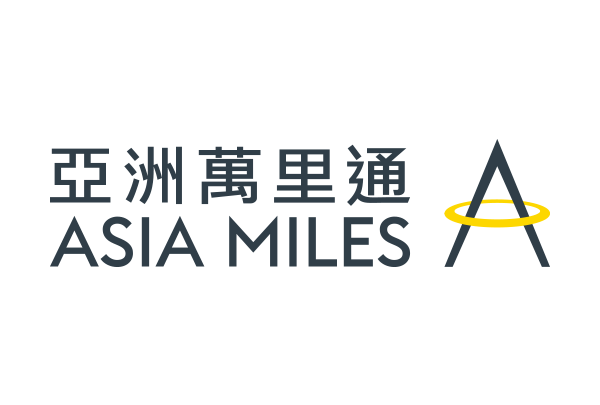 Compared to Western FFPs, Asia Miles is probably less known to the English-speaking world. But there are a lot of gems in the programme and we are going to give you an introduction today.
[Redemption Partners]

You can use Asia Miles to redeem for all Oneworld airline partners, plus the following:
Air China & Shenzhen Airlines
Lufthansa & Austrian & Swiss
Air New Zealand
Bangkok Airways
Air Canada
Gulf Air
Alaska Airlines
I'm sure you've noticed the surprisingly big chunk of Star Alliance airlines on the list. Air China is the second largest shareholder of Cathay Pacific, so this is actually not surprising at all.
One-way redemption on Japan Airlines, Iberia and S7 is not permitted. Only selected routes on Lufthansa, Austria, Swiss and Air Canada are Asia Miles participating.
Asia Miles' online booking system supports just a handful of these partners. On many occasions you'll have to call their reservation centre.
[Redemption Chart]
Asia Miles runs a distance-based redemption system. You are charged for the distance flown, whether it is direct or has multiple segments.
You can find Asia Miles' redemption chart here – refer to the Standard Award section. Note that this is for the Cathay group only and partner redemption is slightly more expensive – I didn't manage to find a chart, but you can expect a roughly 10% excess.

The chart isn't much to write home about. Compared to Avios, Asia Miles' short-haul redemption is significantly more expensive, and medium- to long-haul redemption is more or less at the same level, or slightly cheaper. An exception is awards under 5,000 miles, as the cost for business class is only 45,000 miles per way. Departing from London / Europe, that covers a trip to the Middle East or West Asia on Qatar Airways (priced at 50,000 miles as it is not Cathay metal).
The biggest sweet spot is the Ultra-Long brand, because you pay the same price for any itinerary that is longer than 7,501 miles.
[Ultra-Long One-Way Award]
Let's look at how Asia Miles defines "one-way": if your trip goes from A to C via B, it is treated as a one-way as long as:
All three cities are in the same country, or
A and C are in different countries
So no, London – Hong Kong – Manchester is not a one-way, but London – Hong Kong – Paris is! It is very easy to construct a super long trip without breaking this rule (you can transit only once though), and the one-way trip may end up being very close to a return.
Referring to the chart above, ZRH-HKG-LHR and JFK-HKG-YVR both cost 85,000 miles in business class, or 125,000 miles in first class in total. And I'm sure there are a lot more creative routes out there too.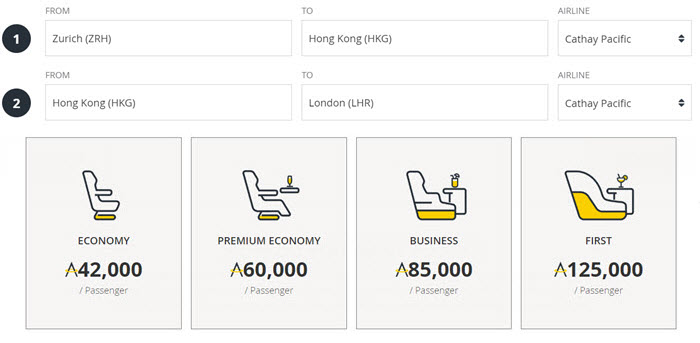 Sadly, in 2020 Asia Miles introduced a new rule that no longer allows stopover on one-way award. This means you can only stay max. 24 hours in the transfer city – so this ultra-long deal is not really useful unless you are just flying for the purpose of flying.
[Mixed-Cabin Award]
Mixed-Cabin award applies when you are flying multiple legs, and they are in different cabin classes. Because Asia Miles charges on distance only instead of per leg, they use a formula to calculate the miles needed in this case.
In short, the final price is the weighted average of two redemption prices by the respective flown distance. For example, if you trip is:
London – Hong Kong, business class, 5,994 miles
Hong Kong – Beijing, economy class, 1,234 miles
Total distance is 7228 miles, and the redemption for business class / economy class costs 65,000 miles and 30,000 miles respectively. The final mix-cabin award price is: (5994 * 65000) + (1234 * 30000) / 7228 = 59024, rounded down to the nearest hundred which is 59,000 miles.
Sounds weird but, this mixed-cabin award is cheaper than flying the first leg only (59,000 v.s 65,000).
[Multi-Carrier Award]
Like its Oneworld counterparts, Asia Miles offers a special award called multi-carrier award, that applies a totally different redemption chart.
It applies to return trip only – so origin and destination must be the same
If you itinerary doesn't include Cathay Pacifc or Cathay Dragon, then you can only mix two airlines; otherwise there is no limit
A maximum of 5 stopovers are allowed, in addition to 2 layovers and 2 open-jaws
Below is the redemption chart, based on the total distance flown: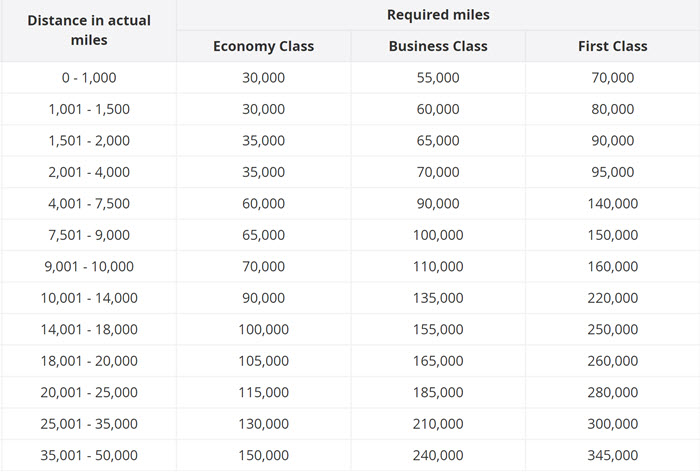 It's fair to say that it is MUCH cheaper that the one from British Airways. To take full advantage of this award, you can plan a trip of up to 50,000 miles, and a full business class ticket costs just 240,000 miles.
I quickly drafted a round-the-northern-hemisphere itinerary…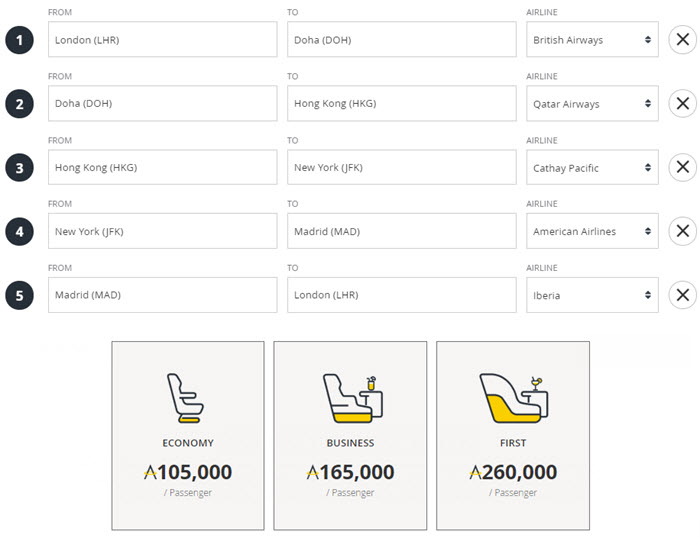 As you can see, Asia Miles' system can price it correctly.
In reality though, booking a (long) multi-carrier award can be very time consuming and challenging. You need to make some efforts to plan the itinerary first, making sure that all flights have award space, and then you need to contact Asia Miles' customer service to make the booking, and they need to confirm that it is bookable again. But well, no pain, no gain.