Melia is a hotel group based in Spain. It is not really that mainstream as it has a total of 300+ hotels worldwide only. It is however, impossible to miss if you ever visit Spain, and does have some decent properties across Europe. In the UK, You can find Melia in London and Manchester.

Melia's main brands are:
Luxury: Paradisus, Gran Melia, ME
Upscale: Melia, INNSIDE
Budget: TRYP, Sol
[Membership Tiers and Benefits]
Melia's loyalty program is called Melia Rewards. It has the following tiers:
White: achieved upon registration.
Silver: 2 stays / 5 nights / €1000 spend. Benefits are 10% bonus points, free wi-fi and breakfast buy-one-get-one-free.
Gold: 15 stays / 30 nights / €6000 spend. In addition to Silver benefits, it offers 30% bonus points in lieu, late check-out and dedicated check-in area.

Platinum

: 30 stays / 60 nights / €15,000 spend. In addition to Gold benefits, it offers 40% bonus points in lieu, guaranteed one-level room upgrade and Red-level access, plus complimentary Priority Pass membership (two free visits).
You get "Platinum for life" if you stay Platinum for 10 years. The breakfast benefit can be quite handy: well it's not free, but it is offered at the Silver level already, and you can't sniff at a 50% discount. This can also be used in conjunction with other promotions – for example if you buy breakfast at the front desk in advance they usually give you a discount.
Late check-out is guaranteed for Gold and Platinum members. It is 4pm in city hotels and 2pm in resort hotels, as long as the hotel is not at 100% capacity.
Platinum's benefit is fairly decent. Red-level is a Melia special and is equivalent to executive benefits in other hotels. It usually includes free breakfast, happy hour, early check-in and late check-out etc. However not all hotels offer this.
Members also receive a birthday present each year, the content of which depends on your membership level. For gold members, you choose between an upgrade voucher and three 20% off vouchers: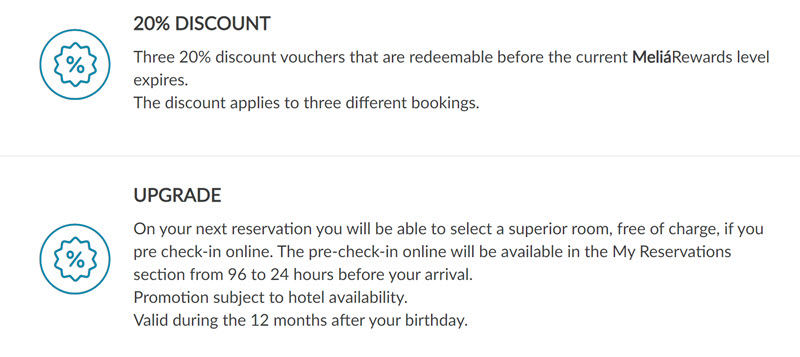 In the UK, American Express Platinum card comes with Melia Gold status.
[Earn Points]
You earn 10 points per Euro for your spend in Melia group hotels. This includes what you originally pay for the room, and also food & drinks and other incidental spend which are charged to the room.
If you are staying at the Red-level, you get a 20% bonus on your points accrual automatically. You can earn points when dining at Melia hotels, even if you are not a staying guest.
You can buy points from Melia's official portal as well. The regular price is €8 for 1000 points. There are usually a couple of promotions each year when the price is reduced to as low as €5.
It's worth mentioning that Melia sells point vouchers on Amazon too (access here) at roughly €6 per 1000 points, which is cheaper than buying from Melia directly. On occasions like Black Friday the price gets discounted further, which can represent excellent value.
[Use Points]
Melia's redemption system is very perplex (or… messy!), and they don't even have any official instructions themselves. I have done my own research and made a summary for you 🙂
Each hotel sort of has a redemption category, which decides how many points are required for its standard room
However, availability is limited; if there's no such availability, you can still redeem a standard room, but Melia basically takes the cash rates (flexible/pre-paid etc.) and converts them to points using a formula. This is a revenue-based system.
You can redeem non-standard rooms too, but prices may be a lot higher (similar to Hilton's "Premium Reward")
You should aim for Standard Redemptions to maximise your points' value. With regards to this, Melia publishes a guideline for how many points you (roughly) need:
Sol: 11,000 (3-star) / 14,000 (4-star) / 25,000 (all-inclusive)
TRYP: 11,000 (3-star) / 17,000 (4-star)
INNSIDE: 17,000
Meliá : 17,000 (4-star) / 22,000 (5-star) / 34,000 (all-inclusive)
ME: 28,000 / 42,000 (all-inclusive)
Gran Meliá: 28,000
Paradisus: 42,000
There are a few exceptions to this, mainly for hotels in London, Paris and New York.
Unlike other hotel programs, Melia's redemption category is almost only dependent on the brand and its star rating, which is much simpler. Moreover, it's worth noting that its top-end hotels only ask for fewer than 50,000 points per night.
Whether it's London, New York or Spain, we can confidently say it's easy enough to spend your points to good value (if we set the threshold to €5 per thousand points):



There is a cash+money option as well. Upon registration you are gifted 2000 points, which can save you 10 ~ 20 euros.
Apart from hotel stays, you can exchange your points for airline miles too, for example:
British Airways: 100 points = 30 Avios
Lufthansa: 6 points = 1 mile
American Airlines: 6 points = 1 mile
Air Europa: 3 points = 1 mile
Usually it's not good deal. But if you can score a cheap voucher during the Black Friday sale, and British Airways happens to be running a 30% conversion bonus promotion, this could be a cheap way to buy Avios or other airline miles indirectly.
Points can be exchanged for Amazon vouchers too: 3400 points = £10 voucher.
[Promotions]
Melia runs 30% ~ 40% off sales constantly, so always always check their website as it can be significantly cheaper than third parties.There is extra 5% off for app bookings too. AND, they both stack with the 20% off voucher you get as birthday gift. It's not rare at all to score a very low rate with all these promotions combined.
Unfortunately Melia doesn't tend to run global promotions for bonus points like other hotel programs. There are sporadically specific offers for certain hotels, or hotels in certain regions.
[Summary]
Although not as well-known as the "big players", Melia certainly has its place in the hotel industry and its loyal program can be quite interesting. I have stayed at a few Melia hotels in Spain and my experience has been generally positive. Their hotel staff is pretty good in recognising elite benefits.
However, I must say that they have a terrible website which reminds me of Iberia. And words are that their customer service is not the best either, so hopefully I'll never have to deal with them!