If you are a Hyatt customer and don't stay with them very often, there's a catch that you should know about which may otherwise come up as surprise in the future.
It's not uncommon that hotel groups have the so-called "Complimentary Night" offers, for example Complimentary Third Night, or Stay 4 Pay 3. It's no secret that they are actually just a form of discounted rates (in this case 33% off and 25% off respectively), but their marketing department knows how to make those nights sounds free and thus more eye-catching to customers.
Hyatt is no stranger to such practice, which is most usually seen in their Hyatt Prive program but also in standard rates offered on their website too. However they really are a nasty player in the game – after my first Complimentary Third Night stay, I found that my account was only credited two qualifying nights instead of three:

I thought it was a system error at the beginning, but after multiple communications with different CS agents from online chat and Twitter, they all came to the same conclusion that the third night was free and therefore ineligible for credit accrual. They are not lying – if you look at the rate details, the third night is indeed not charged: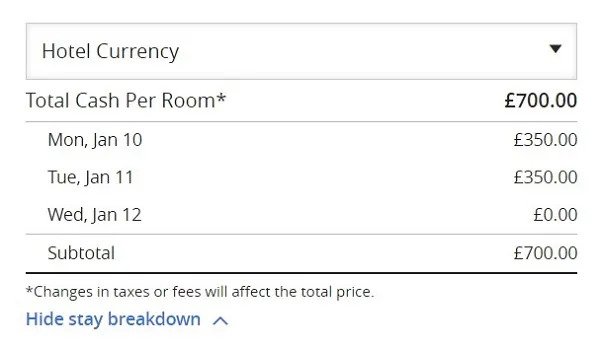 And there are numerous online reports from people who've had the same misfortune, and you can only count your luck on an untrained CS agent or admit defeat. I know it's in Hyatt's terms, but they are letting their customers pay for their marketing tricks, which is kind of disgusting.
Missing one night credit may cause a lot of hassle to the plan of a Hyatt member, but how on earth does it actually benefit Hyatt? I wish they can just come to their senses and stop this malpractice – I've stayed on the same rate with Hilton and IHG many times and never once encountered any issue with my night credits.