Amazon is running two promotions at the moment, although both are targeted so you have to try your luck.

The first promotion is here. You should be able to see the details if you are eligible. Basically you get £5 off a purchase of at least £25. Note that the item(s) needs to be sold by Amazon directly – I haven't found a good way to filter by this in the search results, but you should see if your order is eligible in the payment page: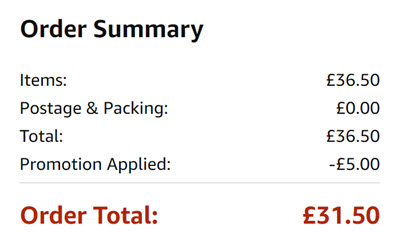 The second promotion is here. You are eligible only if you've never used Amazon's phone app. If you download the app and sign in, you should see a banner within the app letting you activate the £10 off £30 offer.